Pivotal

Managed IT Services
Offload the responsibilities of your business technology to Leverage IT's
Pivotal

program, and free up time for growth and innovation.
Are these issues happening to your business?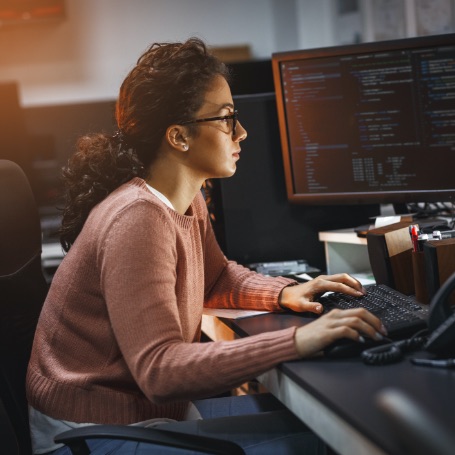 Unoptimized IT isn't a technical problem, it's a business problem.
IT issues waste time that's better spent on business processes and people. And that's not the only risk factor: Working with frustrating technology lowers employee morale, and dealing with a business that has tech problems discourages customers and partners.
Our Pivotal IT Management program removes these risks by creating a best practices framework specifically for your requirements, and delivers improvements across your entire organization.
How your organization will benefit
Our
Pivotal
Managed IT monitors your systems and prevents issues before they escalate into problems.
Why Choose Leverage IT

Pivotal

Managed IT Services?
* as measured over the last 6 months against deliverables
Clients who choose our
Pivotal
Managed IT Services see immediate improvement across their business processes.
When you partner with Leverage IT, our engineers take on every aspect of your business technology from hardware fixes to compliance audits. And we invest in long-term relationships, so we'll teach you how to get the maximum returns from your technology investments. Every tool in your IT ecosystem can promote growth, and we'll teach you the most efficient ways to use them.
Leverage came up as a top contender

It was really easy to tell right away how above and beyond Leverage go, and how detailed they are in project and ticket management. All their feedback is so important – we weren't getting that with our other provider and it's very refreshing.

Karin Fisk

Manager of Systems & Projects
Mary's Gone Crackers, Inc. | Conscious Eating®
Ongoing Project Management and Budget Tracking

We have zero downtime because we are in public safety. Leverage IT came in and started working quickly to understand our needs, the scope of the project, and its complexities. That coordination was really important and also helped with our budget tracking.

David McPartland

Captain
The City of Berkeley Fire Department
File Server Dev & Maintenance for Consulting Company

The team's responsiveness and understanding of our needs have allowed us to produce effective solutions. Their expertise in the Microsoft suite of products has been critical to our ongoing success. Leverage IT Consulting's professionalism and reliability are hallmarks of their work.

Peter Marschall

Operations Manager
Social Entrepreneurs, Inc.
We tailor our
Pivotal
Managed IT Services to best meet the needs of your growing business.
Schedule your security risk consultation
Use the 'Book My Consultation' button below to schedule a conversation with our Managed Services team.
Technology Assessment and opportunity roadmap
Our team will conduct a comprehensive technology assessment to identify opportunities for optimization and a plan for execution.
Our
Pivotal

program goes to work for you
We'll begin implementing our Technology Best Practices framework to optimize and maintain your business IT, saving you time, costs, and stress.
Are you ready for

Pivotal

improvements?
Schedule your consultation with our Managed Services team and get your business technology back on track TODAY!