CloudScale

Cloud Business Solutions
Our CloudScale service helps you choose the best cloud IT solutions for your business and manages your new IT environment for better agility, productivity, and security.
Do these pain points sound familiar?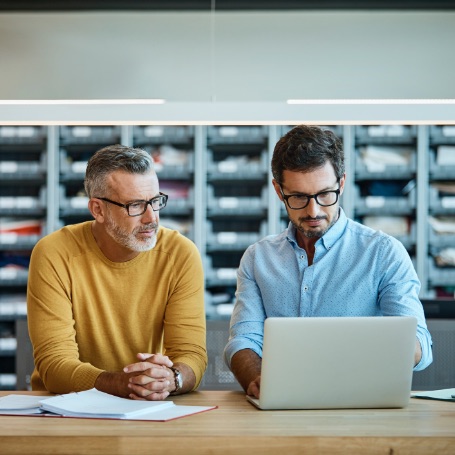 Business runs better in the cloud.
If you're still operating on-premises servers, you're probably experiencing setbacks while those in the cloud are enjoying significant advantages. The cloud makes everything easier — collaboration, productivity, data protection — all while reducing capital expenditures.
Cloud computing options dominate the business landscape. But they need to be implemented with a clear roadmap, aligned to your specific operational and security requirements. With our Leverage IT CloudScale services, we work with you to ensure your business goals are met.
Cloud computing models: Find the right cloud solution for your organization
Our approach to helping clients migrate to cloud computing is to discuss their needs and find the configuration that makes the most sense for their goals.
What will the cloud do for your business? What is better handled on premises? What will the ideal cloud solution look like for your processes and people?
This upfront analysis ensures your work environment is implemented correctly and delivers the maximum benefits to your business.
Why Choose Leverage IT

CloudScale

solutions?
Leverage came up as a top contender

It was really easy to tell right away how above and beyond Leverage go, and how detailed they are in project and ticket management. All their feedback is so important – we weren't getting that with our other provider and it's very refreshing.

Karin Fisk

Manager of Systems & Projects
Mary's Gone Crackers, Inc. | Conscious Eating®
Ongoing Project Management and Budget Tracking

We have zero downtime because we are in public safety. Leverage IT came in and started working quickly to understand our needs, the scope of the project, and its complexities. That coordination was really important and also helped with our budget tracking.

David McPartland

Captain
The City of Berkeley Fire Department
File Server Dev & Maintenance for Consulting Company

The team's responsiveness and understanding of our needs have allowed us to produce effective solutions. Their expertise in the Microsoft suite of products has been critical to our ongoing success. Leverage IT Consulting's professionalism and reliability are hallmarks of their work.

Peter Marschall

Operations Manager
Social Entrepreneurs, Inc.
We tailor your
CloudScale
project to ensure your business sees the maximum benefits of moving to the cloud
Schedule your cloud consultation
Use the 'Book my consultation' button below to schedule a conversation with our CloudScale team.
We'll work to understand how your business operates and what you want to accomplish, and we'll determine which cloud computing options deliver the best cost-benefit ratio.
Our
CloudScale

service goes to work for you
We'll plan your transition to the cloud, set up your new infrastructure, train your people, and handle your migration and go-live.
Are you ready to transform your business?
Schedule a one-to-one chat with us. No sales talk, just high-level conversation about your technology strategy.